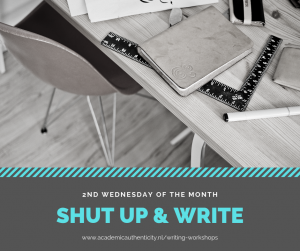 Coffee, tea and healthy snacks included.
Bring your own lunch. There is a fully equipped kitchen available to you.
Program
10.15-10.30: Arrival with coffee/tea
10.30-10.45: Check-in
10.45-11.45: Round 1
11.45-12.00: Notes to self
12.00-12.45: Lunch in silence
12.45-13.05: Emphatic Listening in Couples
13.05-13.15: Preparing for Round 2
13.15-14.15: Round 2
14.15-14.30: Tea in silence
14.30-14.50: Emphatic Listening in Couples
14.50-15.00: Preparing for Round 3
15.00-16.15: Round 3
16.15-16.45: Check-out
Make sure to read the 'Shut up & Write'-manual up front. You'll receive the manual directly after booking your ticket. If you have any questions, don't hesitate to e-mail or call me.
Scheduling your session is easy, just click here

On financing these workshops, please read this friendly reminder:
After approval of my quotations by supervisors, most participants finance these workshops out of their bench-fees or personal and career development budgets.

Feel free to request a non-binding quotation.