Academic Authenticity is created by Anna Tijsseling because of signalling lack of.. well.. er.. happiness in the academic world… Over the years, she observed an increasing number of even the youngest of academics – the students – at the risk of burnout. In her teaching, tutoring and training, she has managed to get academics back on their inspired track, by getting them in touch with their ideals and higher goals in life.
Because working in academia can be fun, adventurous, playful and inspiring, she is invested in helping others who may have forgotten how to even be playful… How? Simply by helping them re-member their inspired selves: exploring, trying to understand and explain phenomena, working together to create inspiring learning trajectories, and doing your administration to help your colleagues and students move forward smoothly. It can be fun. Sometimes academics just need a little help in figuring out how to allow yourself to work in an inspired manner and serving their own highest potential.
With regard to (re)creating happiness and a feeling of excitement and gratitude Anna is inspired by the American psychologist Marshall Rosenberg amongst others. Rosenberg invented Non Violent Communication. A Language of Life. Comparisons take away all fun, Rosenberg reminds us. Emphatically reconnecting with ourselves will help us getting to terms with the alienating side of the academic environment.
From a young age her curiosity revolved around (imaginary, moral) boundaries. She has been intruiged by people who have contested those boundaries and tried to change the world into a more 'inclusive' place. The dynamics of in- and exclusion and the way in which (groups of) people maintained and maintain those dynamics have always been of interest to her.
Trained as an interdisciplinary historian at the Erasmus University of Rotterdam Anna wrote her final thesis on the concept 'odd woman' in political endeavours to establish secondary schooling for girls in the 19th century in the Netherlands. Betsy Perk, the founder of the first Dutch women's magazine, was a protagonist in that history. Want to know why Anna is so intrigued by Betsy Perk? Just click on this link and see her contribution to Vrouwen Voorwaarts! in the NTR/VPRO-television series 'De IJzeren Eeuw'.
Anna received her PhD from the Utrecht University in 2009. She wrote her dissertation on the prosecution of moral and sex crimes in the Netherlands around the years of the German occupation. She was based at the International Institute of Social History between 2004-2009 for this endeavour.
Combining her research with teaching at the University of Amsterdam, she developed a deep love for writing and teaching courses that inspire students to reach for their best selves. She worked as a lecturer and later on as an assistant professor at the Leiden Institute of History (2009-2016). She was nominated for the Teachers Award in 2012 by the Leiden Humanities Faculty for 'inclusive' teaching.
In 2014, she became 'a slasher' working as a 'assistant professor/director' by leading the Rotterdam Information Center of LGBT-emancipation during 2014-2016. Why LGBT-emancipation should choose 'democratic citizenship' and should leave 'anti-discrimination' as a point of departure? Listen to Anna's contribution on the Homomonument in Amsterdam, on NPO1. 
Since then she has worked as as a university lecturer of political history at the Utrecht University and as a postdoc researcher at the Willem Pompe Institute (Utrecht University) helping set up an interdisciplinary network of professionals interested in studying the history of (prosecuting) crime.
Annually she contributes to the Huizinga seminars for PhD students where the idea and practice for profound academic selfcare was born.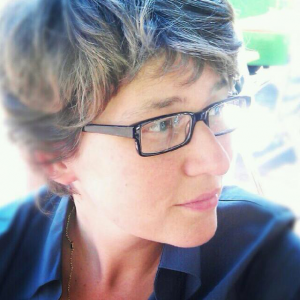 "I love coaching students and academics and helping them re-member what they have 'on offer' matters. Nothing is more inspiring than people working as their authentic selves."